Summer 2023 Fashion Trends : Aguas Frescas
Summer is here and it's a new season! You might be wondering "What styles of clothes are in for summer? and what type of jewelry should I be wearing?"
Well...At BuDhaGirl there is nothing better to quench these warm weather days than Aguas Frescas!
Aguas Frescas means cool waters. With new little shops popping up everywhere offering healthy refreshments, Aguas Frescas are one of the biggest trends taking the USA by storm this summer season. Aguas Frescas is more than just a trend; it is fresh fruit, water, and in some cases sugar.
BuDhaGirl is totally inspired by these delicious, colorful beverage treats. We, at BuDhaGirl, thought it would be refreshing to celebrate them by naming our 2023 Summer capsule the Aguas Frescas Capsule.
The colors of this collection are a perfect piña (golden yellow), a fabulous fresa (calming pink), marvelous melon (fresh orange), a heavenly horchata (sky blue).
Today we have created a few Wristscapes that pair perfectly with a few of our favorite clothing brands.
Perfect Piña
Yellow Summer Fashion Trends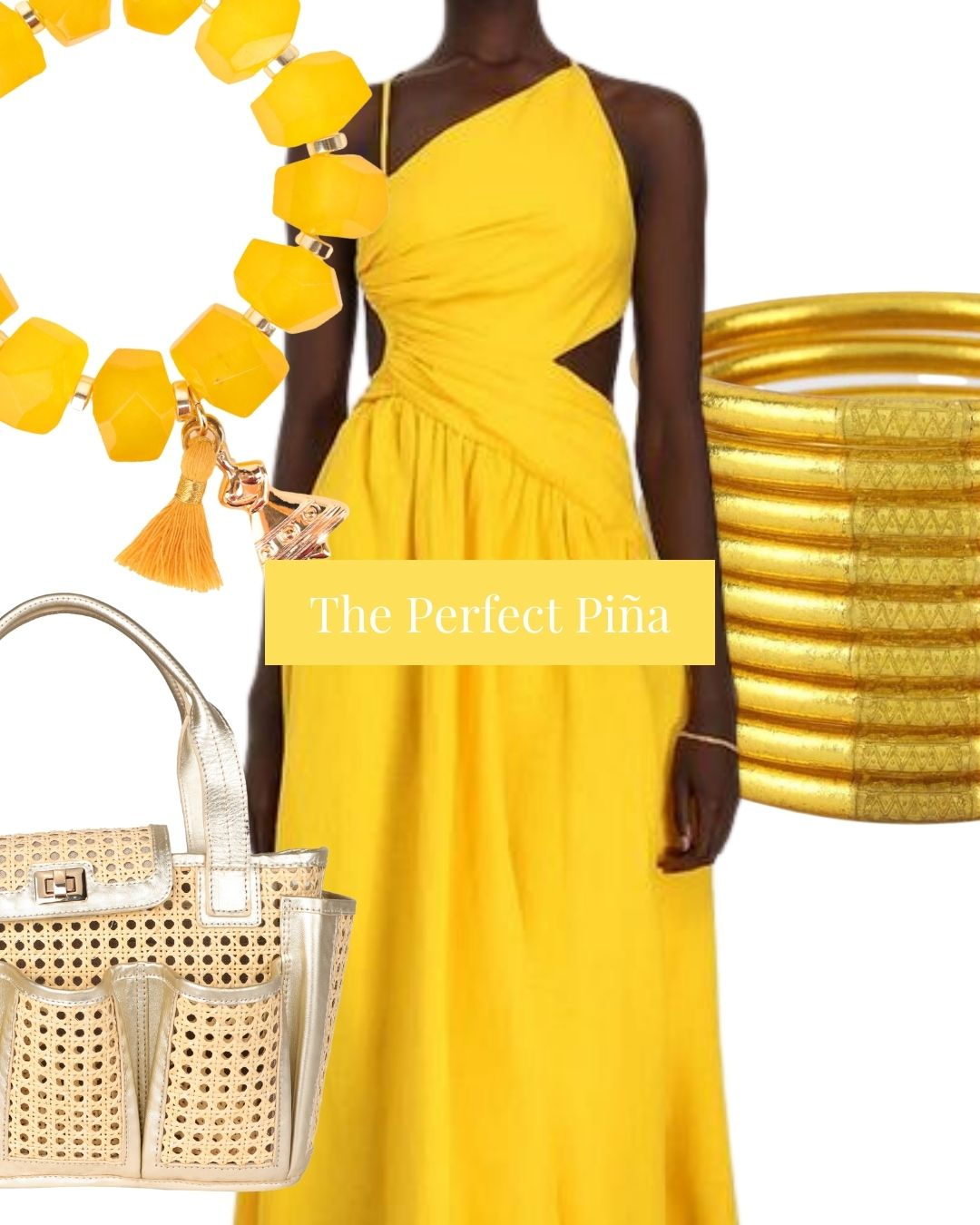 Experience the golden allure of Perfect Piña, a hue that refreshes and invigorates. Every stitch and thread of this perfect summer outfit is infused with a sunlit symphony, captivating and enchanting all who behold its radiant embrace.
How To Wear Yellow
To complete your Perfect Piña look, adorn your wrists with our fun Piña Pebbles Bracelet and the Gold All Weather Bangles®, adding a touch of elegance and inspired by the sun.
Carry your essentials in style with the Gold Marché Tote, a chic and functional accessory. And for the ultimate embodiment of Perfect Piña, slip into the Zimmermann Ginger Asymmetric Midi Dress, a stunning dress that exudes grace and captures the essence of summer.
Marvelous Melon
Orange Summer Fashion Trends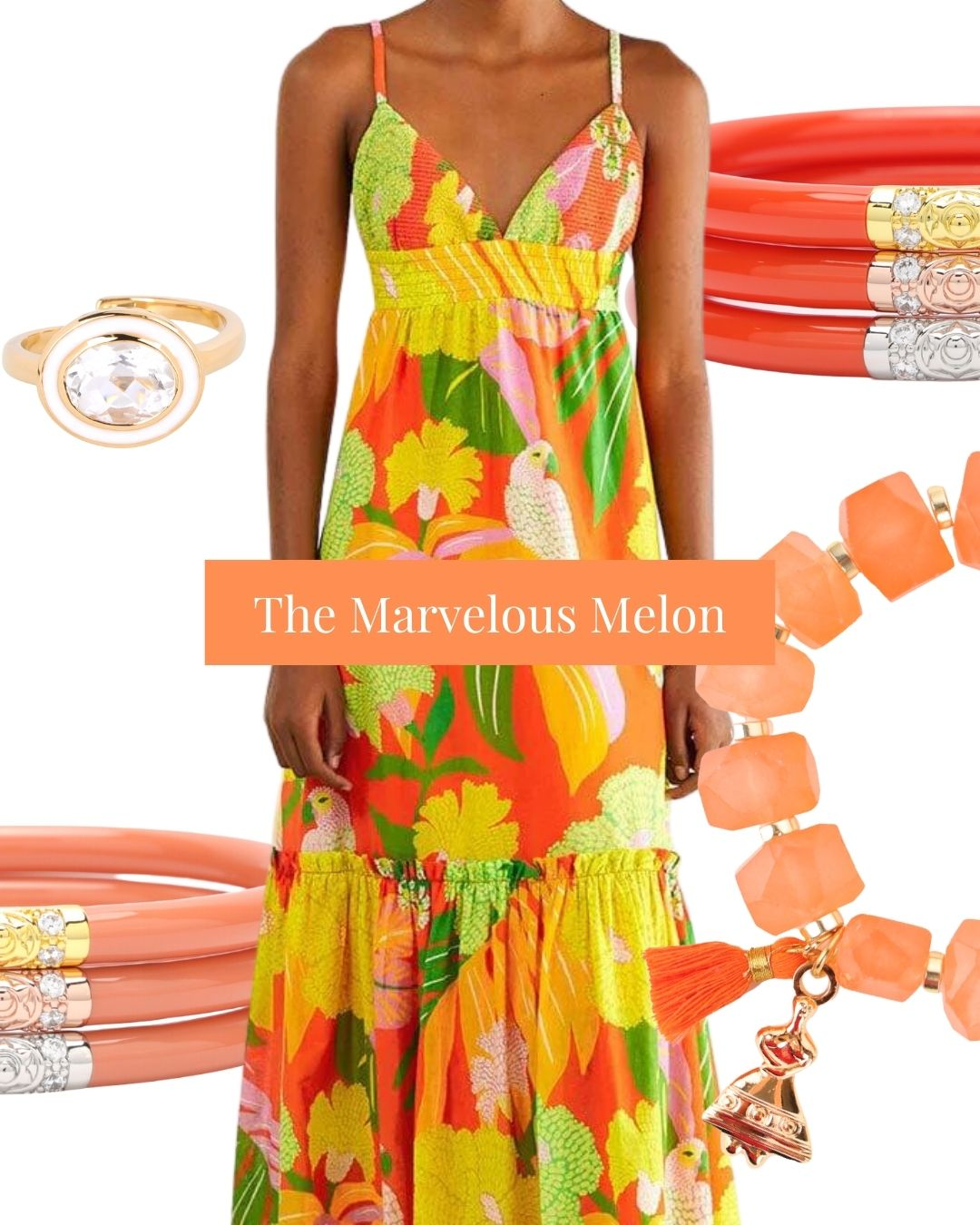 Inspired by the resplendent beauty of monarch butterflies, Marvelous Melon Orange is a breathtaking composition that exudes elegance and vibrancy.
Its striking orange hue draws the eye and leaves a lasting impression. Embrace the transformative power of this trend and let your fashion choices take flight like a graceful butterfly.
How To Wear Orange
Complement your Marvelous Melon look by wearing the Coral Three Kings AWB® and the White/White Galaxy Ring, accentuating your style with a pair of bold and beautiful accessories.
Complete your look with the Melon Pebbles Bracelet and the Farm Rio Neon Floral Maxi Dress, radiating summer vibes with every step.
Heavenly Horchata
Blue Summer Fashion Trends
Immerse yourself in the tranquil embrace of Heavenly Horchata Blue, a shade that captures the serene beauty of the ocean's depths.
This heavenly hue evokes the gentle blue hues dancing upon the water's surface, bringing forth a sense of tranquility and calm. Let this soothing trend transport you to a place of peace, quiet luxury, and serenity.
How To Wear Blue
Embrace the essence of Heavenly Horchata with the Tanzanite/White Galaxy Ring and the Horchata Pebbles Bracelet, adorning your wrists with elegance and grace.
Add a touch of sophistication by wearing the Turquoise Ines Bracelet and the Blue Sapphire LUXE Infinity Bracelet. Complete your look with the Silver All Weather Bangles® and the Farm Rio Blue Full Of Flowers Mini Dress, creating a stunning head-to-toe outfit that reflects the serene beauty of summer.
Fabulous Fresa
Pink Summer Fashion Trends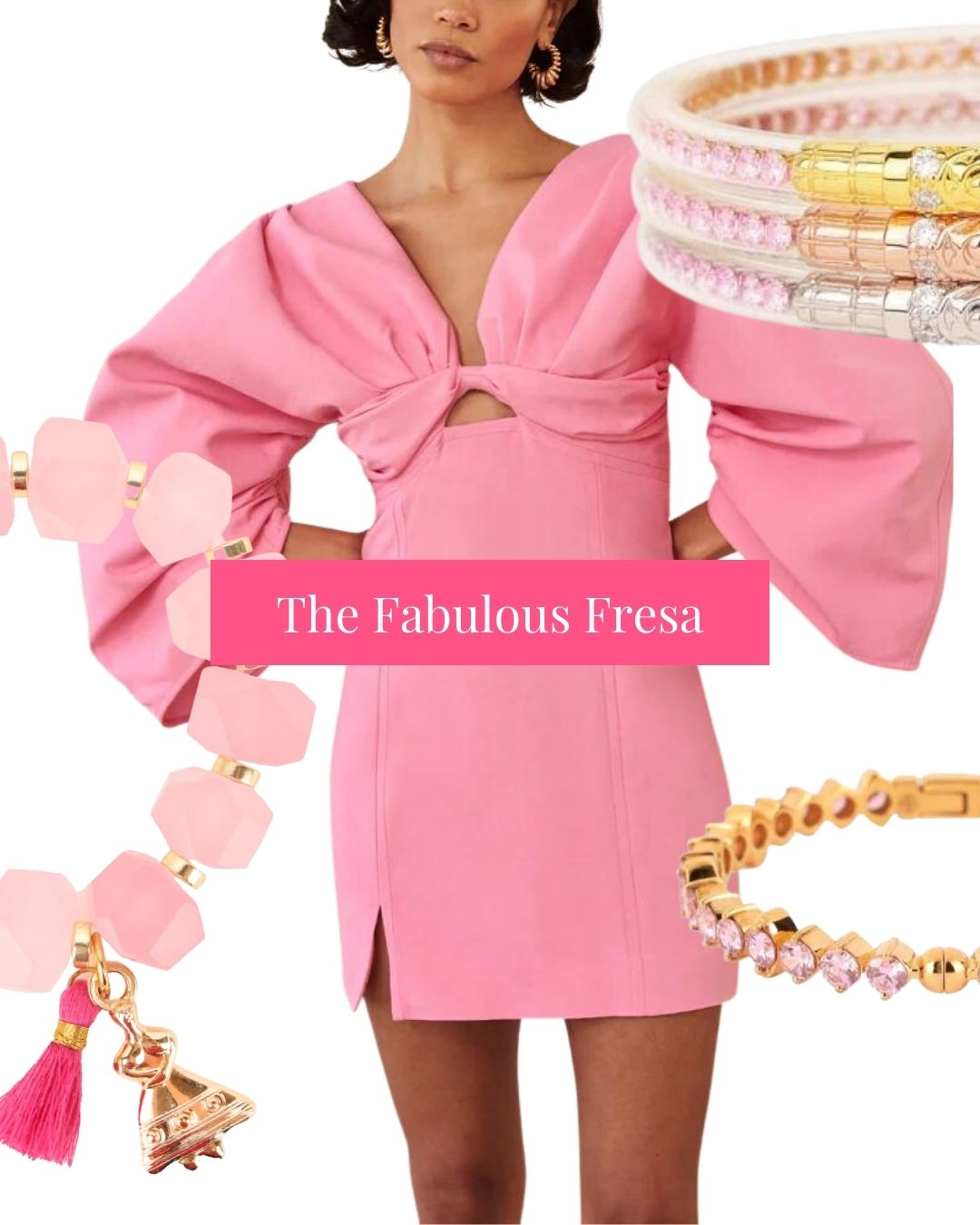 Inspired by the delicate ballet of petals, Fabulous Fresa celebrates the enchanting beauty of summer's pink blooms.
This captivating trend encompasses a spectrum of pink hues and nature's floral Fuchsias. Embrace the feminine and romantic essence of Fabulous Fresa and let it bloom in your spring-summer wardrobe.
How To Wear Pink
Wrap your wrists with the Petal Pink Three Queens All Weather Bangles® and the Light Pink LUXE Etoile Bangle, exuding grace.
Embrace this pink style with the Fresa Pebbles Bracelet, a delicate and charming accessory. Complete your Fabulous Fresa look by wearing the Cult Gaia Dahlia Mini Dress, a dress that embodies the ethereal beauty of summer's blossoms. 
The Coconut Pearl
White Summer Fashion Trends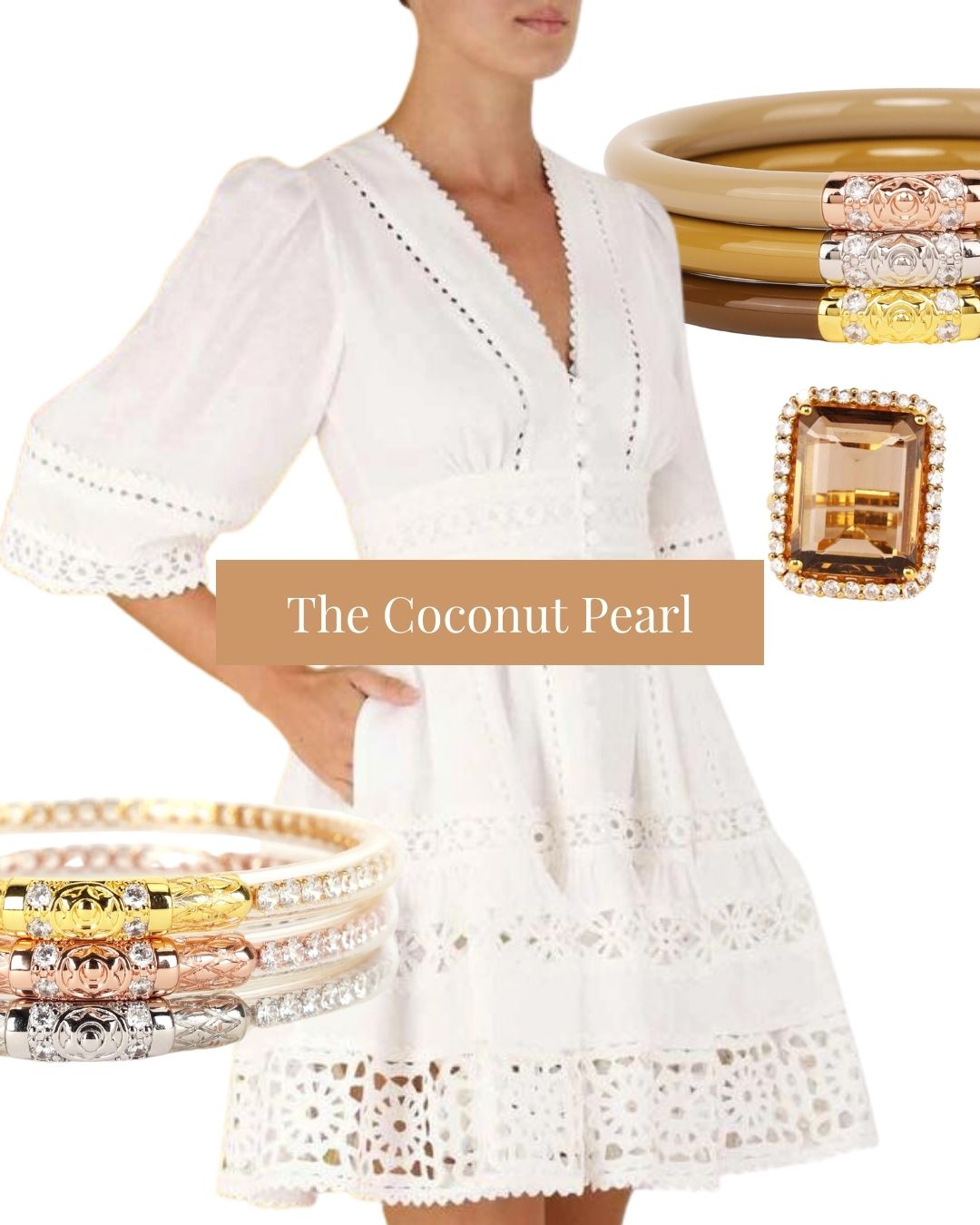 Drawing inspiration from the rarest botanical gemstone, The Coconut Pearl captures the essence of nature's elegance in its white and ivory palette.
This ethereal glow mirrors the purity and timeless charm found in the natural world. Embrace the sophistication and grace of this trend and let your summer style radiate with an elegant glow.
How To Wear White
Adorn your wrists with the Oro Three Kings AWB® and the Clear Crystal Three Queens All Weather Bangles®, adding a touch of luxury to your ensemble.
Enhance your look with the Smokey Topaz/Crystal Nebula Ring, a mesmerizing piece that sparkles with beauty. Complete your elegant summer outfit with the Zimmermann White Devi Spliced Billow Mini Dress, a garment that exudes sophistication and refinement.
The Vibrant Viridescent
Green Summer Fashion Trends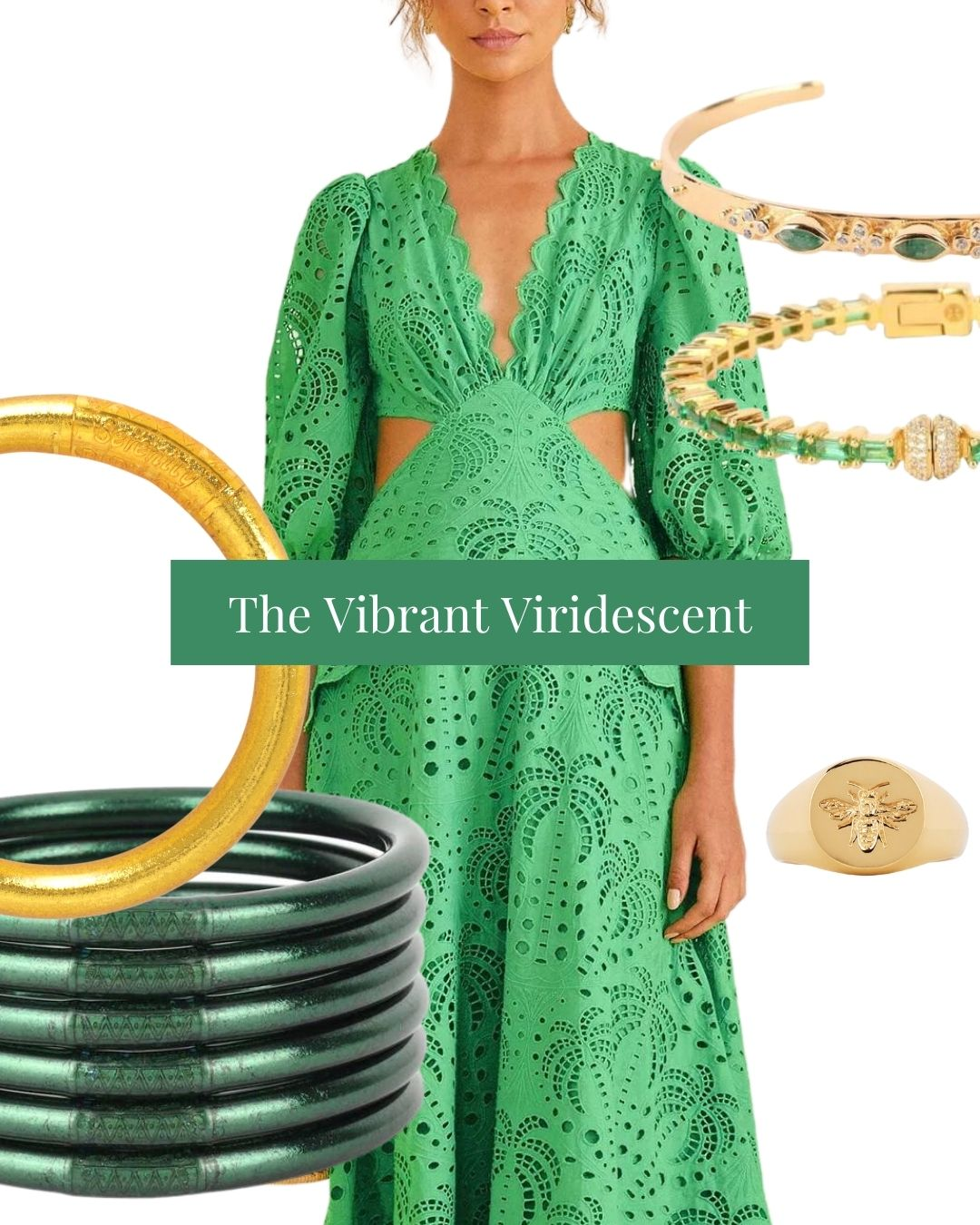 Step into the enchanting world of the tropical rainforest with The Vibrant Viridescent trend. This top trend and an exquisite palette of vibrant green hues evoke the lush emerald treasures found within nature's captivating embrace.
Infuse the rest of your spring-summer wardrobe with the freshness and vitality of this trend and let your style flourish like the vibrant foliage of the rainforest.
How To Wear Green
Embrace the essence of The Vibrant Viridescent with the Emerald LUXE Aurora Bracelet and the Gold Tzubbie All Weather Bangle®, adding a touch of nature-inspired elegance to your ensemble.
Accentuate your style with the Frond All Weather Bangles®, a stunning accessory that embodies the spirit of the rainforest. To complete your look wear the old Queen Bee Ring and the Farm Rio Green Richelieu Midi Dress, creating an ensemble that exudes vibrancy and natural beauty.
What is the trend for summer 2023?
Well... The Trend is Aguas Fresca! Summer fashion trends come alive with a symphony of captivating colors. From the refreshing allure of Perfect Pina to the breathtaking elegance of Marvelous Melon, and from the tranquil embrace of Heavenly Horchata to the enchanting beauty of Fabulous Fresa, each trend offers a unique experience.
Embrace the radiant hues and let your summer style shine. With the Coconut Pearl's elegance and the Vibrant Viridescent's freshness, your wardrobe will become a canvas for expressing your unique personality. Embrace the magic of these summer fashion trends and step into the warm weather filled with vibrancy.
In Case you missed our
Previous Posts
At BuDhaGirl, we believe that Father's Day is a BIG deal. It is a sacred occasion that celebrates the bond shared between a father and his loved ones. It invites us to embark on a journey of intros...
Read more